Interview with Laura Stack
Michael Sliwinski: You say productivity is your passion. Why productivity?
Laura: Well, I admittedly have always been fascinated by human performance, potentials, and time management. I saw Zig Ziglar when I was 14 and I knew back then that I wanted to be a speaker. I was in one of the strange families, where my mother would actually send me to motivation conferences. My father was an instructor at the Air Force Academy. He had a Ph.D in philosophy and my mother had a degree in psychology. I've skipped several years of school, I did my undergraduate in college in 2.5 years and I had my MBA when I was 21. I had the record, at that time, at the University of Colorado for the youngest MBA.
I've always been driven this way and it was a very natural progression for me to get involved in the personal productivity industry. I worked as a trainer in a corporate setting for a few years and I decided I needed to open my own company so I opened my doors in 1992. I've been speaking professionally now for 19 years.
Michael: Your newest book, which I highly recommend is: "SuperCompetent".
Laura: Thanks, this is my 4th book. My first, "Leave the Office Earlier" came out in 2004 and then "Find More Time: How to Get Things Done at Home" was done in 2006. Then I wrote "The Exhaustion Cure" in 2008 because the readers were saying, "how do I get the energy to be productive?" And then "SuperCompetent" came out in August 2010. My next, "What to Do When There's Too Much to Do" will hit stores in May 2012.
Michael: So, in "SuperCompetent" you are talking of six keys that help you be competent, to achieve your goals: Activity, Availability, Attention, Accessibility, Accountability and Attitude.
Laura: So, SuperCompetent is kind of a summary of the work I've been doing for the past 19 years and I have found six basic things to be true of people who perform at their productive best.
It all starts with activity. Basically, knowing what you should be working on. And this seems kind of like common sense, but I think it is true for so many of us that have a hundred and seventeen things to do everyday and we often pick incorrectly what it is that we should be doing.
So, that's the first key. What are the activities that need to fill your day?
Michael: It's like with this ladder that you climb up the wrong wall. You climb very nicely, but that's not the wall you should be climbing, right?
Laura: Sure. We get so occupied by other things that we first have to get back down to the core of what am I supposed to be doing? Why am I here? What is the ultimate responsibility that I have?
In my company for example, as the president of The Productivity Pro, I'm responsible for building my brand, and for speaking and bringing in the business, and that's pretty much it. So, if I'm not talking to clients, if I'm not researching, if I'm not writing, if I'm not standing on a platform then I'm not doing my job.
Michael: In my case it was really hard, I started Nozbe — as a one-man-shop. It's a problem because you are used to doing everything. And then at some point you have to just figure it out, you're not really good at all this and you need help.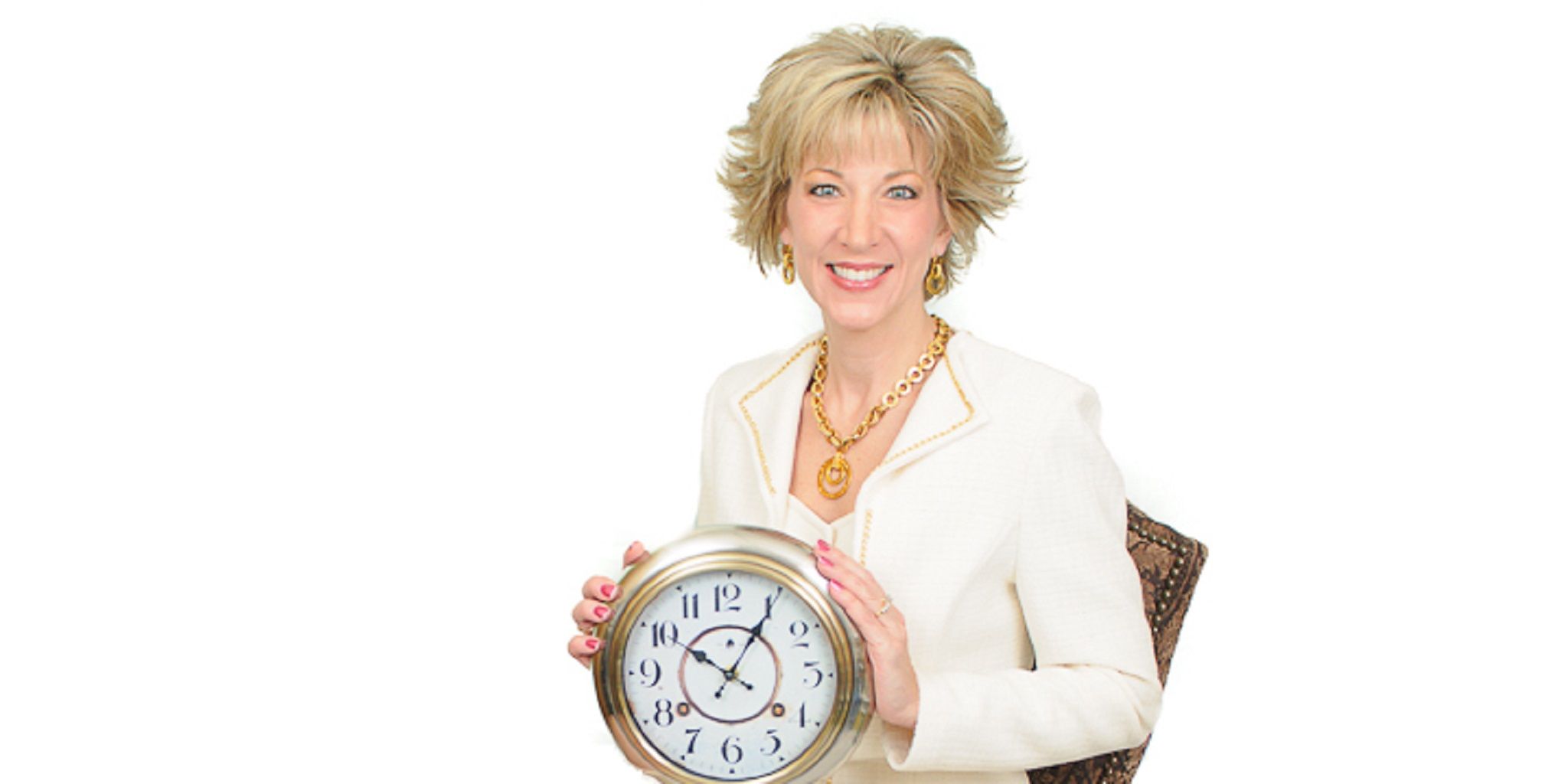 Laura: Yes. And transitioning from actually doing a lot of the work yourself to leading your company and managing other people is a huge shift for many entrepreneurs, and its a shift that indeed many people don't make. And they still, years later, are spending midnights assembling marketing materials, doing $10-20 an hour work instead of doing the $250 an hour work and really moving their companies forward.
Michael: And as for your career, how do you switch between client work and speaking?
Laura: I'm mostly a professional speaker. That's my passion, that's my love, I like to get on the platform. About half of my speaking is at conferences doing keynotes and break out sessions, the other half is more in the trenches training in corporations doing half day and full day workshops and seminars.
The book writing, all of the work with newsletters, and all my social media is ultimately moving me towards speaking, training, and consulting engagements, because that's what I love the most and that's where the majority of our revenues as a company come from.
I'm now also the president 2011-2012 for the National Speakers Association. My business all rotates around professional speaking.
Michael: So being a Zig Ziglar with very nice hair and make-up?
Laura: Oh, thank you, that's sweet. You know Zig Ziglar is a personal hero of mine. I'm 42 and though I've been in this business for many years, I feel like I've just started. I have so much excitement and enthusiasm still about productivity and it's such an exciting topic and luckily one that is still very much in demand.
Michael: Oh, increasingly so, because of the pace that everyone is running at right now.
Laura: You know, that's fabulous and that's where a lot of people get their motivation. Fundamentally, the principles, the foundations of productivity have never changed. In "SuperCompetent" I've really tried to reinforce evergreen truths. You have to know what it is you have to work on. You have to make time for it. You have to focus on it. You have to be organized around it, and always be accountable for your results, trying to improve and never giving up. That's it.
Michael: From one of our previous interviewees — Michael Hyatt, I learned a lot about accountability and responsiveness. He said, always, that his key to success was that he was always quick to respond to people.
Laura: It's hard to do…I know what you are saying. Accountability to me, I define a bit differently, in terms of teams, keeping your commitments, in doing what you said you would do, meeting your deadlines, and always looking for more efficient ways to do things. It's kind of a state of mind.
Michael: Yes, and the other thing is Attention — people lose it on Facebook for example.
Laura: Oh, Facebook is the new water-cooler. Oh, we can talk about how we make connections, I mean you can spend whole day updating your profiles and you know everything about the web… but how is that really contributing to your revenue? Entrepreneurs need to put the Facebook in a box and recognize that it is just one more distraction if you are not careful. It's self control and self discipline. So, while I would say it is important to be responsive I really think we have to control our obsessive compulsive email disorder :-)
Michael: Tell me, how is your work-life balance? I mean, you have three kids and a husband, how did you manage to run a successful company for so many years and then have it work with you and the family?
Laura: Again it comes down to really understanding what am I trying to create in whole context of where I spend my time. The biggest thing in my life to me is to be a mother and a wife and if I fail there I fail everywhere. My kids are 10, 11, and 16, and I'm just like everyone else, trying to run a house and I'm married and I'm in business. For example at the beginning of each year I block out 4 weeks of vacation on the calendar and it's non-negotiable. It's hard if you don't create the boundaries for yourself first. You know, people just say "I just don't have time", well nobody really has time. You have to make time. Fortunately, we also work from home, and my husband works for the company as well, so he's here when I'm on the road.
Michael: You've been in business for so many years and still 24 hours is 24 hours. I mean there is no way to bend it.
Laura: It doesn't change and for me productivity is all about love. It's figuring out how to love your work, your family, and to get it all done. And I think you can have it all, just not all at the same time. I really try to force myself as much as possible to compartmentalize while the kids are home, because I see a lot of parents sort of half way paying attention to their children, still really working, or they slip back into the office a little bit. So again, these are personal boundaries that we have to decide what they are for ourselves and then choose not to break them. And that comes down to discipline.
Michael: This problem is especially difficult for us, because we love our work so much, that we have to really set up our boundaries for ourselves.
Laura: My husband and I, for example, have a date night. We try to go out every Saturday night, and grandma comes over or my daughter, who is 16, can babysit, but it is on the schedule. See, if your workout time isn't on the schedule, your date time isn't on the schedule, your Sunday with the family isn't on the schedule, you allow your life to evolve kind of willy-nilly and you don't get all those elements in. It took me 255 pages in the book "SuperCompetent" to explain these very easy 6 things, but that's fundamentally what we have to do.
I fly over 100,000 miles a year. It's a job hazard of a professional speaker: I do travel. I try to be careful about being home at night. You know, fly out, spend a night, wake up, give a presentation in the morning, and fly home.
Michael: So you first saw Zig Ziglar when you were 14, and when did you first talk to him?
Laura: When I joined the National Speakers Association. Zig Ziglar is a member, so I was so thrilled of course to meet him and explain how important he was in the role of getting me into this crazy business of speaking and so I have had the honor and the opportunity of seeing him on many occasions now.
Michael: Your future right now is the presidency of the National Speakers Association, more speaking engagements… and a new book?
Laura: Sure. I write a book every two years. So I have a new one that I'm working on. I'm always writing. I give about 80 speaking engagements a year, so I learn a lot in the trenches, on the road, talking to people, learning and hearing what's on their minds. I'm always trying to be fresh and relevant. So, yes, you will see a new one from me in 2012 and I will continue my message of productivity. I can't imagine anything that would pull me away from that right now. At least in the very near future, I imagine I will be doing exactly the same thing I'm doing now.
Check out Laura's bestselling book: What To Do When There's Too Much To Do: Reduce Tasks, Increase Results, and Save 90 a Minutes Day