How Nozbe can help you achieve your goals in 2015
This is a guest post by one of our Nozbe power users: Michael Hyatt, who is the author of the "New York Times" bestseller, "Platform: Get Noticed in a Noisy World." He is also the founder of Platform University and the massively popular course, 5 Days to Your Best Year Ever.
If you are going to achieve your goals in 2015, you must have a way to track your progress, so you actually achieve it. There are a variety of tools for doing this. However, Nozbe is a great choice.
I don't know about you, but Nozbe is my personal "command center." It is the place where I plan, track, and accomplish my most important taks. I couldn't get along without it.
But did you know you can also use it to help you achieve your most important goals for 2015? There are three advantages of doing so:
It's a tool you're already using. If you already use Nozbe for task management, you can easily use it for goal management as well. You don't have to buy—or learn—another tool.
It's a tool that is available on every device. This makes it easier to keep your goals visible—a key to following through on them. You can review your goals on your desktop while at the office or on your mobile device while on the go.
It's a tool that is simple and flexible. So many goal-setting apps force you into their system and structure. They are often over-kill with too many features. Nozbe, on the other hand, is wonderfully flexible, so you can create the structure that works best for you.
You can use Nozbe to track your goals by following these five simple steps.
Step 1: Create a new project for each of your goals.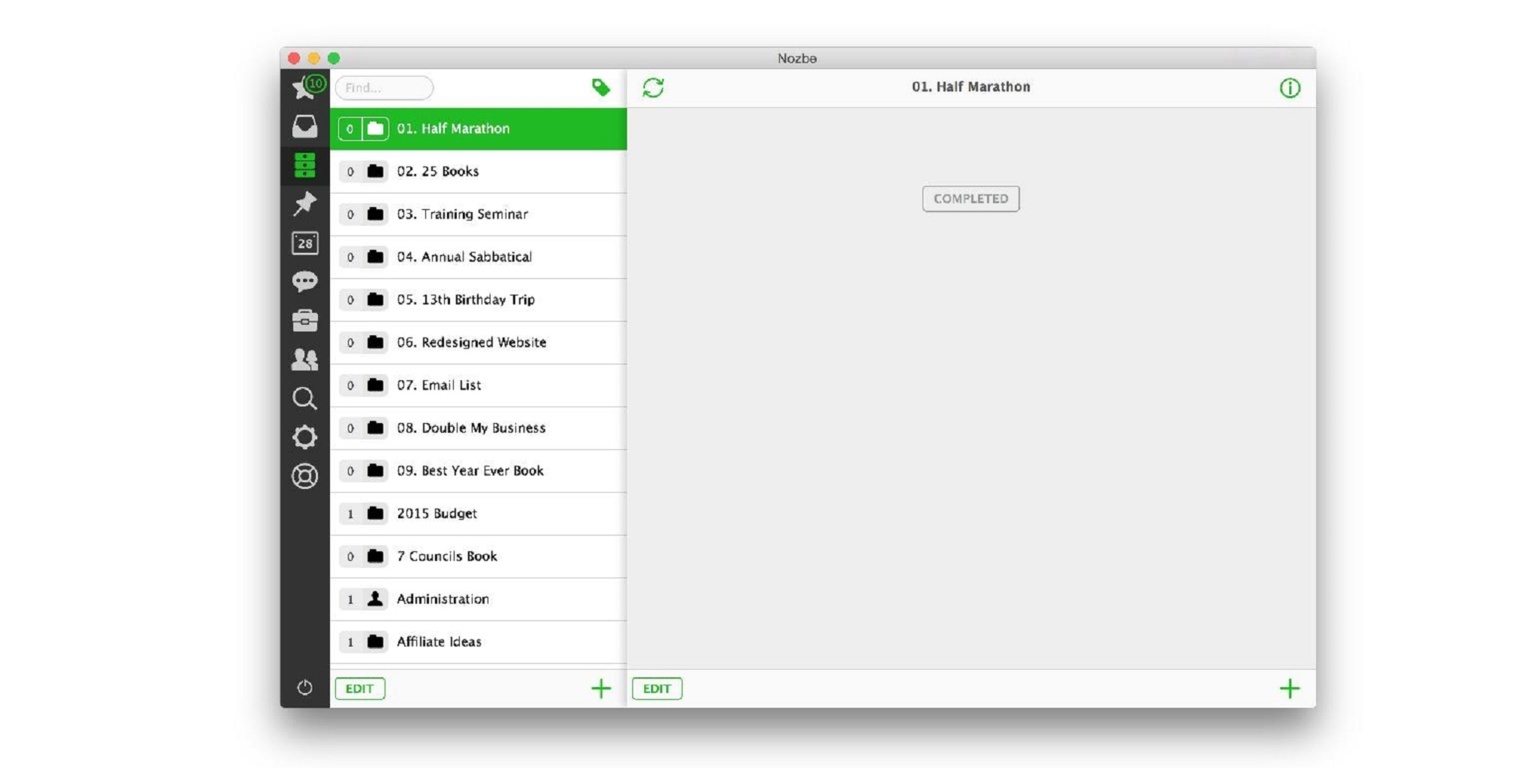 Go to your projects list by selecting Go > Projects from the main menu.
Create a new project by selecting File > New Project from the main menu.
Enter a project name for the goal in the Project Name field. For example, one of my goals for 2015 is "Finish the Country Music Half Marathon on April 25, 2015." I entered "Half Marathon" as the project name. Another one of my goals is "Write the 5 Days to Your Best Year Ever book by August 31, 2015." Entered "Best Year Ever Book" as the project name.
Precede each Project Name with a number (optional). This will enable you to organize your goals in a specific way that makes sense to you. For example, I like to start with my personal goals and then move to my professional ones. If you don't care about organizing them, you can skip this step.
Enter seven to ten goals. In my course, 5 Days to Your Best Year Ever, I suggest that this is the ideal number of goals at any one time. If you have more than nine goals, use a leading zero before single digits, so they sort correctly. This will ensure that 10 sorts after 09 rather than before.
Step 2: Enter the global attributes for each of your goals.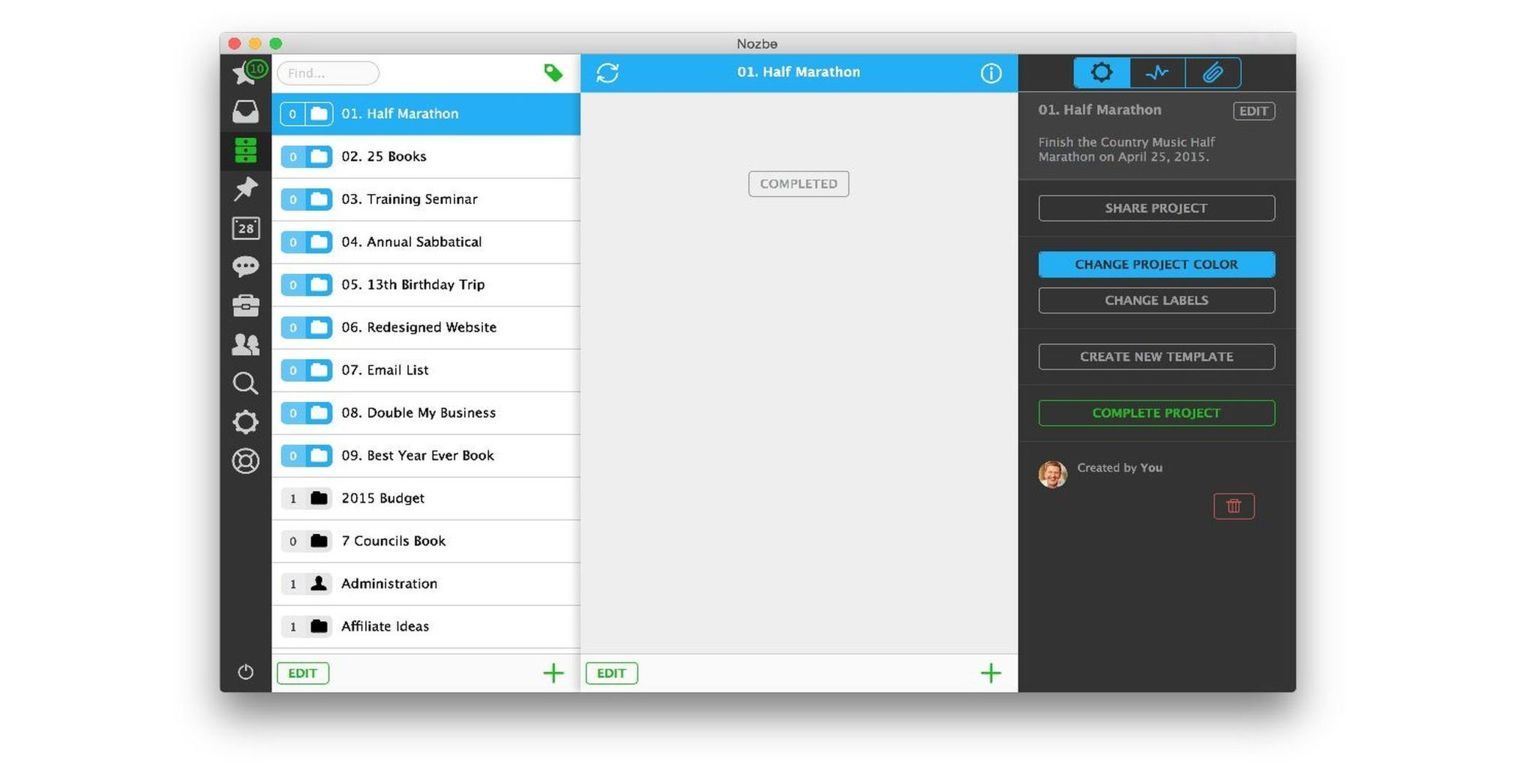 Select one of your goals by clicking on it. Then open the Infobar by selecting List > Show Settings from the main menu.
Click in the Project Description field and enter the full goal. Make sure it starts with a verb. It should be specific and measurable. It should also include a due date.
Change the Project Color by clicking on the Change Project Color button (optional). I use a specific color to set my goals apart from the rest of my projects.
Add a "Goals" label to each of your goal projects by clicking on the *Change Labels button.
Use the Group Edit feature of Nozbe to change the Project Color and Labels for all your goals at one time. This is an alternative to changing them one-at-a-time as I have described above. Simply click on the Edit button in the lower left-hand corner of the screen. Select each of your goal projects. Click on the Change button. Then click on the Labels button to set the project label and the Colors button to set the project color.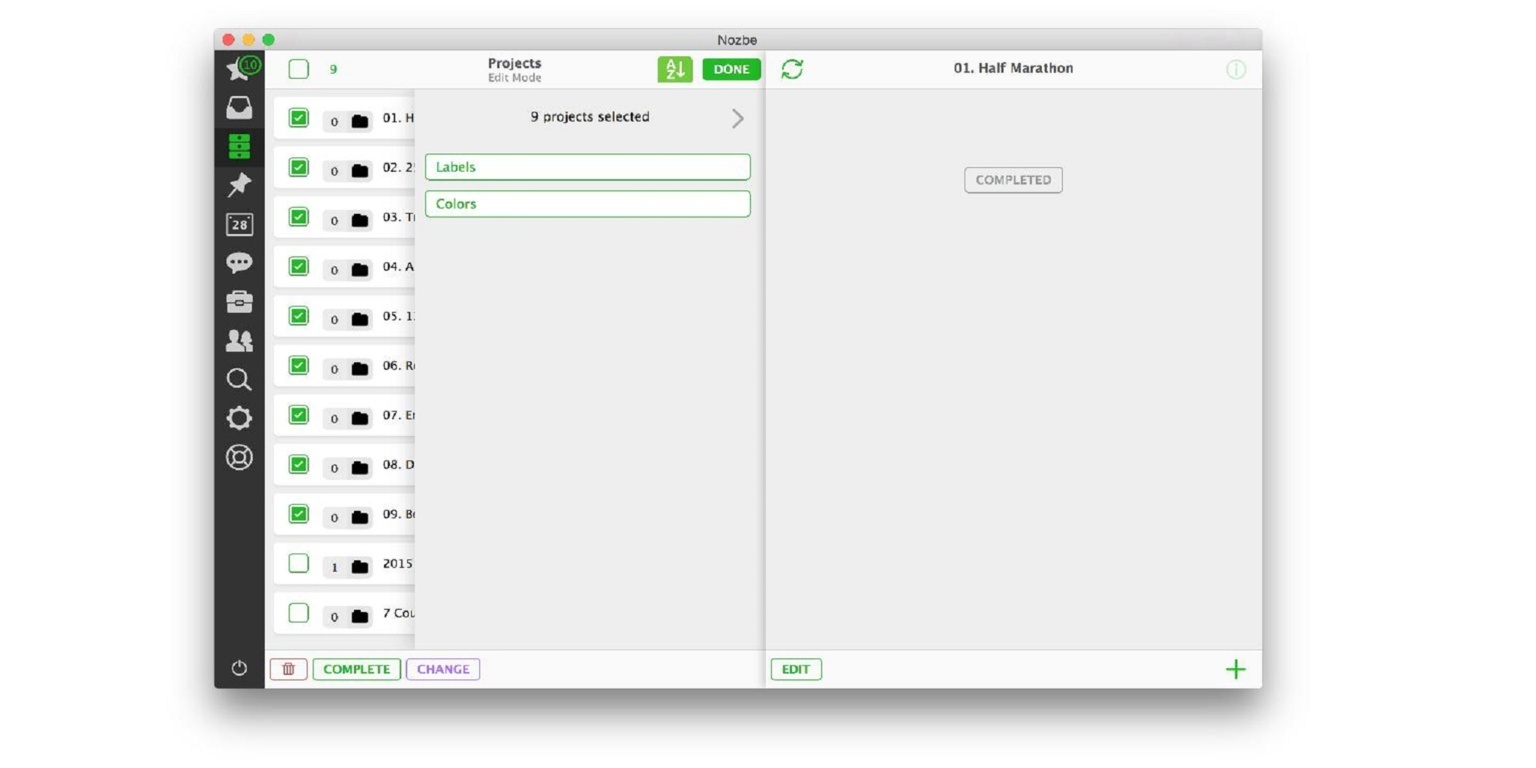 Step 3: Add your Motivations for each goal.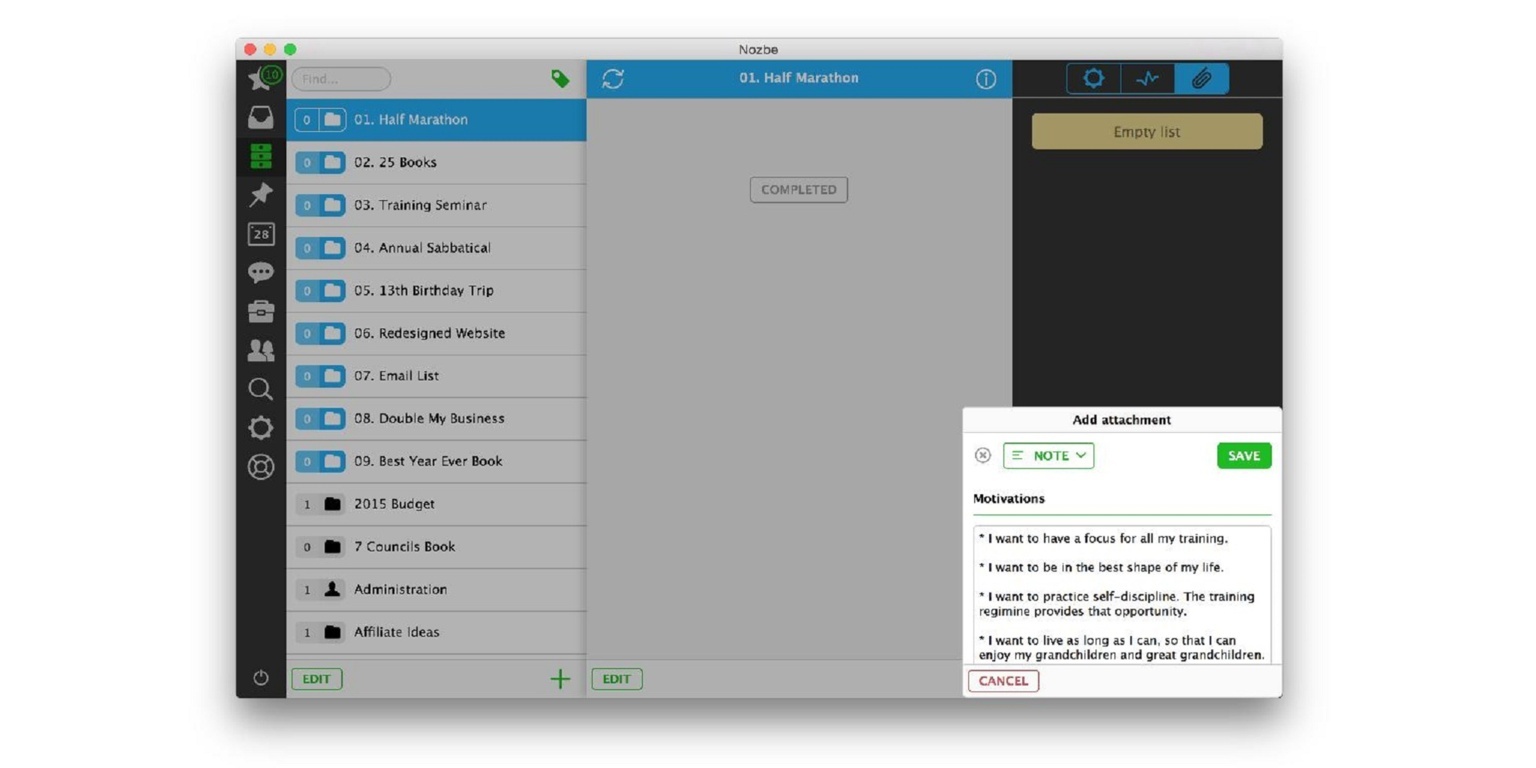 Select one of your goals by clicking on it. Then open the Infobar by selecting List > Show Attachments from the main menu.
Click on the + button in the lower right-hand corner of the screen. Make sure the Note type is selected. In the Note Title field, enter "Motivations." In the Note field, type your key motivations. I type mine as a series of bullets, using the asterisk character before each motivation. I try to list four or five motivations for each goal. These represent my why—in other words, why it is important that I achieve this goal.
Enter additional attachments (optional). If you have other documents that relate to the overall goal, you can add those as well. These could include files from your local drive, Dropbox files, or even Evernote notes.
Step 4: Add your Tasks for each goal.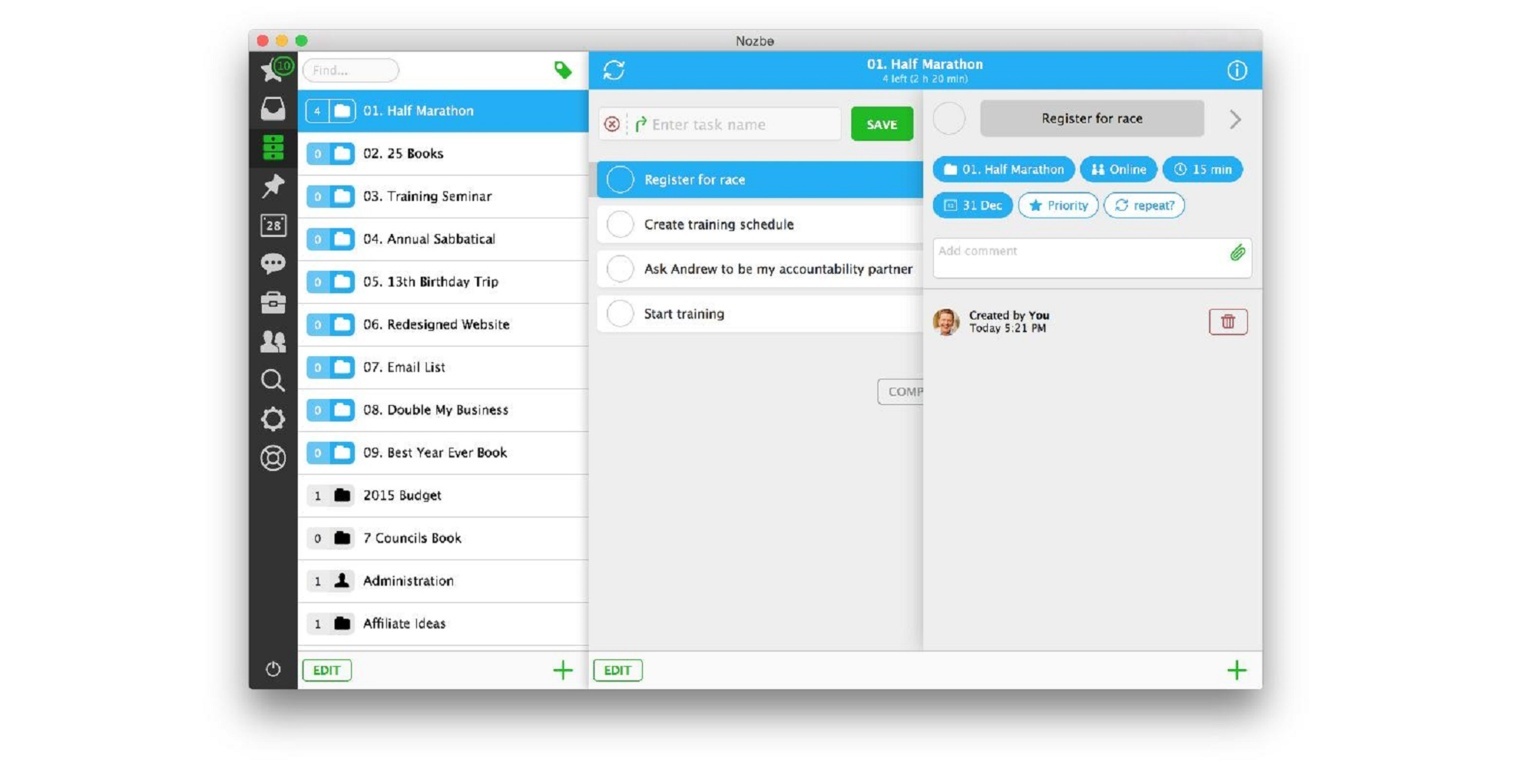 Enter your next action steps for each goal by selecting List > New Task from the main menu. I also discipline myself to enter the category, time needed, and due date (if relevant).
Caution: Don't fall prey to excessive planning. You don't need to map out the entire path. In fact, if the goal is sufficiently outside your comfort zone (and it should be), you won't be able to see the entire path when you begin. Just enter a few tasks and then add more as you build momentum toward the goal.
Step 5: Review your goals on a regular basis.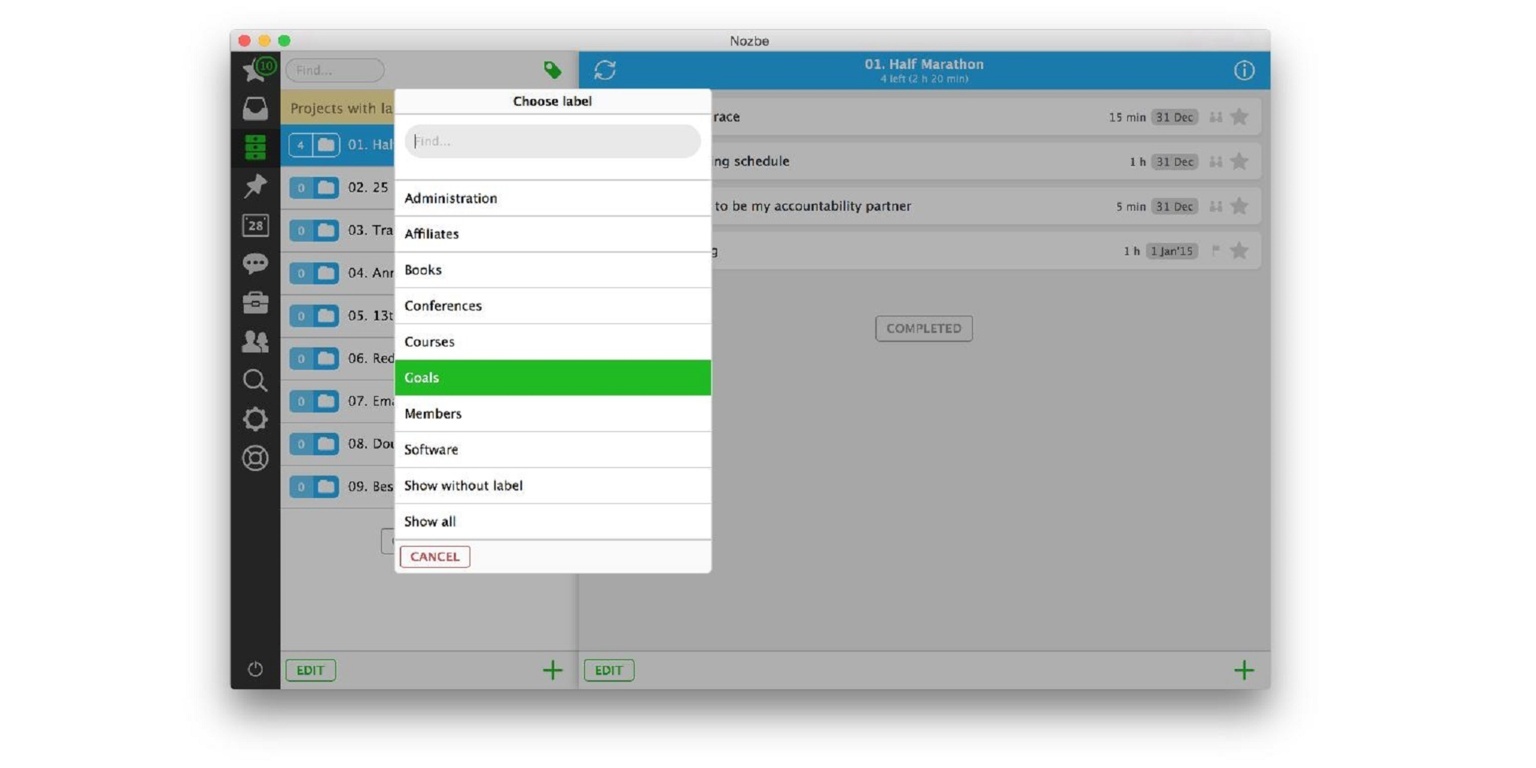 Review your goals daily by clicking on the Project Labels icon above your projects list. Select "Goals." This will display only those projects with the Goals label, enabling you to focus.
Review the tasks associates with each goal. I do this quickly, looking for tasks I want to work on today. When I find one, I click the Priority star at the end of the task. This adds it to my Priority List—the tasks I want to complete today.
Add new tasks as you think of them. This can happen any time during the day. I get them out of my head and into the appropriate goal list. I also do a more in-depth review of my goals on a weekly basis during my regular Weekly Review.
Like any project, you will only achieve your goals if you work on them. They won't just magically happen. You have to plan, track, and review them. As Jim Rohn said, "Discipline is the bridge between goals and accomplishment."
How do other high achievers get organized and on-track for 2015? Tony Robbins, John Maxwell, Dave Ramsey, and 22 other hugely successful entrepreneurs and leaders reveal their best strategies and tips in my brand new ebook: 'Set Yourself Up for Your Best Year Ever: The 8 Strategies of Super-Successful High Achievers Use to Prepare for the New Year.' Click here to download it FREE!
A note from Michael Sliwinski
As you know, productivity is my passion, and helping people around the world get organized and stay on top of their game is my mission. That's why, as the founder and CEO of Nozbe, I decided to create the magazine that you're reading right now. The magazine is free, but creating each issue costs money — Nozbe covers these costs.
I'd appreciate if you checked out Nozbe when looking for a solution for yourself or for your company to manage tasks, organize projects, and communicate effectively. Thank you!
Michael Sliwinski